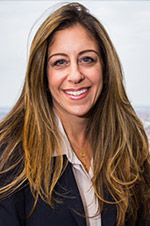 Nicole M. Nigrelli (Of Counsel)
Office Location:
Philadelphia
Phone:
(215) 557-3550
Email:
vCard:
Download
Nicole Nigrelli concentrates her practice in bankruptcy and bankruptcy litigation. Nicole has a diverse client base and has represented clients in the real estate, healthcare, manufacturing, service and retail industries. Nicole has experience representing debtors, litigants, creditors' committees, equity committees, lenders, bondholders, secured and unsecured creditors, plan administrators, and other interested entities in various bankruptcy reorganization, litigation and liquidation proceedings.

Some of Nicole's notable representations include the following: lead counsel to the Heritage entities, diversified real estate holding companies with over $100,000,000 of debt and thirteen (13) separate bankruptcy proceedings brought in the Bankruptcy Court for the District of New Jersey, eleven (11) of which were successfully reorganized through the chapter 11 proceedings; lead counsel for Stratford Nursing and Convalescent Center, a 300-plus bed continuing care facility in New Jersey with over $23,000,000 in debt, wherein the sale of the business was successfully negotiated through the chapter 11 case; co-counsel for William B. Kessler Memorial Hospital, Inc., a New Jersey acute care hospital with over $30,000,000.00 in debt which was reorganized in the chapter 11 proceeding; and co-counsel to chapter 7 trustee in WL Homes, LLC et al., requiring the negotiation and sale of a $50,000,000 real estate portfolio, resolving substantial litigation and dissolution of dozens of joint ventures.

Nicole graduated cum laude from Suffolk University Law School in 1999. While in law school, Nicole clerked for the Office of the United States Attorneys in Boston, Massachusetts. She also served as the Production Editor of the Moot Court Honor Board. Prior to law school, Nicole graduated cum laude with a Bachelor of Arts Degree from Villanova University.