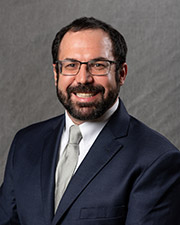 Daniel Siedman (Associate)
Office Location:
Philadelphia
Phone:
(215) 557-3550
Email:
vCard:
Download
Daniel Siedman is an associate at Ciardi Ciardi & Astin. Daniel focuses his practice on corporate litigation and bankruptcy. Daniel has experience representing debtors, litigants, creditors' committees, equity committees, lenders, bondholders, secured and unsecured creditors, plan administrators, and other interested entities in various bankruptcy reorganization, litigation and liquidation proceedings.

Before joining Ciardi Ciardi & Astin, Daniel graduated from Drexel University, Earle Mack School of Law in 2009. Prior to law school, Daniel graduated from the University of Maryland. Daniel was voted by his peers as a 2014, 2015, 2016, 2017 and 2018 Pennsylvania "Rising Star" (published in Pennsylvania Super Lawyers).